Keegan Berry Certified as a Specialist in Construction Law
July 26, 2019 11:07 AM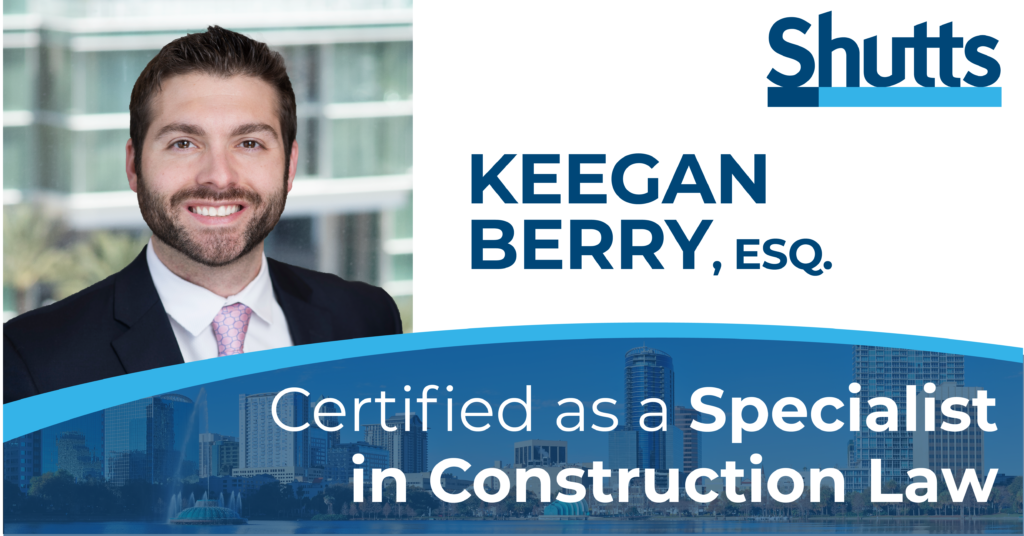 Shutts & Bowen LLP is pleased to announce that attorney Keegan A. Berry has been certified as a specialist by The Florida Bar in Construction Law. Board Certification is a distinction which only seven percent of eligible Florida Bar members hold.
Established in 1982 by the Florida Supreme Court, board certification helps consumers identify specialists in various areas of law. Certification, which is a voluntary program, is the highest level of evaluation by The Florida Bar of competency and experience within an area of law, professionalism and ethics in practice. To obtain Board Certification, attorneys are required to demonstrate substantial involvement in the area of construction law, pass a written examination, and satisfy an extensive background peer review assessment. Out of Florida's more than 106,000 lawyers, only 384 are Board Certified in Construction Law.
Keegan is a member of the firm's Business Litigation Practice Group and is based out of Shutts & Bowen's Orlando office. Keegan's practice focuses on the areas of construction law, commercial litigation and general litigation. He has experience defending general contractors, subcontractors and product manufacturers in various aspects of construction disputes, including pre-suit claims and defects under Chapter 558 of Florida Statutes, litigation, arbitration and mediation. Keegan also has extensive experience in complex commercial and general litigation, including business torts, professional liability, products liability and general liability.
About Shutts & Bowen LLP
Established in 1910, Shutts & Bowen LLP is a full-service business law firm with approximately 291 lawyers in eight offices throughout Florida.