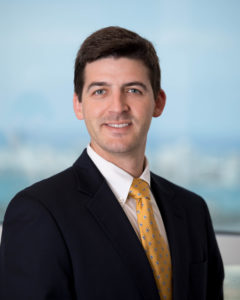 Our 2017 Summer Clerkship Program brought four law students for an intellectually challenging and professionally gratifying experience. Nearing the end of the program, the students agreed to share a few of the highlights about their summer.
Jacob Kupp joined us from the University of Florida Levin College of Law, where he will be a legal writing and appellate advocacy teaching assistant in the coming year. Jacob has a banking and financial services background with previous experience as an anti-money laundering analyst and a loan review analyst. He is expected to graduate in 2019.
Here is what Jacob had to say about his summer at Shutts.
Q1. How did you decide to pursue this position?
After my 1L fall semester, I began to look into opportunities over winter break for the upcoming summer. I focused in the Orlando area because it is my hometown and a city that I would be happy to return to after I graduate. I looked into Shutts because I already was familiar with the firm's great reputation having grown up in Orlando. Through connections, I found out that Shutts had an opening for a summer associate position, so I submitted my resume and application materials and was fortunate to be given an opportunity to interview. Through the interview process, I quickly realized that Shutts has an amazing culture and I knew that I would be lucky to be a part of such a friendly and genuine team. When I was offered the position, I had no doubt in my mind that this was where I wanted to spend my summer.
Q2. What advice would you give to someone looking for a summer clerkship? What should they do to succeed in the position?
Finding a summer clerkship can be very challenging. When applying to different law firms, often you are competing against a large pool of highly qualified candidates, so it is crucial to find ways to stand out. Networking and finding a connection with the firm you are pursuing can be invaluable in distinguishing yourself from other candidates. In determining what firms to apply to, it is also important to consider what areas of law you are interested in and what city you would want to end up in after graduation. Further, I think one of the most important considerations is the culture of the office. To have a fulfilling and successful career, I believe it is crucial to truly enjoy the people you work with on a daily basis.
A summer clerkship is a great opportunity to explore different areas of law and to build relationships. To get the most out of it and to succeed, you need to be willing to work with as many attorneys as possible and on as many different projects as possible.  Asking questions when receiving assignments and soliciting feedback after is crucial in producing quality work and improvement. However, it is also important to make sure that you are getting to know the attorneys in the office outside of work. Make it a priority to ask people out to lunch and to attend social events outside of the office. It is these types of experiences that will truly help you to build meaningful relationships.
Q3. What were the three most memorable experiences throughout your time here?
It's difficult to pick only three experiences out of everything I was fortunate enough to be a part of during my summer with Shutts. However, three things that stuck out to me were (1) helping to draft loan documents that were ultimately signed at a closing between a bank and a commercial real estate developer; (2) going to the Miami office for training and spending an evening out on a yacht cruise with a few partners and my fellow summer associates; and (3) ending the summer with a lake day celebration and having a great time tubing, wakeboarding, and jet skiing.
Q4. What were your expectations and have they been met (or exceeded)?
Coming into this summer, I was both excited and nervous to start work as a summer associate.  I was eager to get a feel for how work at a law firm is, but I also was afraid I could be overwhelmed by it.  However, I quickly realized that the point of the summer program was not to inundate us with intense assignments and busy work. Rather, I found that the work I was being given was meant to be a learning and exploratory experience. I also felt that the attorneys I worked with truly wanted to teach me and help me succeed. I never felt that I was being given impossible tasks or meaningless work. Instead, I could actually see the value in what I was being assigned. I felt that the work I did made meaningful contributions to different projects and that I was learning and improving with each assignment.
About Shutts & Bowen LLP
Established in 1910, Shutts & Bowen is a full-service business law firm with more than 260 lawyers with offices in Fort Lauderdale, Jacksonville, Miami, Orlando, Sarasota, Tallahassee, Tampa and West Palm Beach.  Learn more about Shutts & Bowen at www.shutts.com.